Less than a week after 49 CRPF troopers were killed on Feb 14 after their convoy was targeted by a JeM suicide bomber in Pulwama came a gunfight that killed four soldiers in Jammu and Kashmir's Pulwama district, police said on Monday. The gunfight started late Sunday night after security forces, including the Rashtriya Rifles (RR), Special Operations Group (SOG) of the state police and the Central Reserve Police Force (CRPF), surrounded Pinglena village upon receiving a tip off that Jaish-e-Muhammad (JeM) militants were hiding in the area.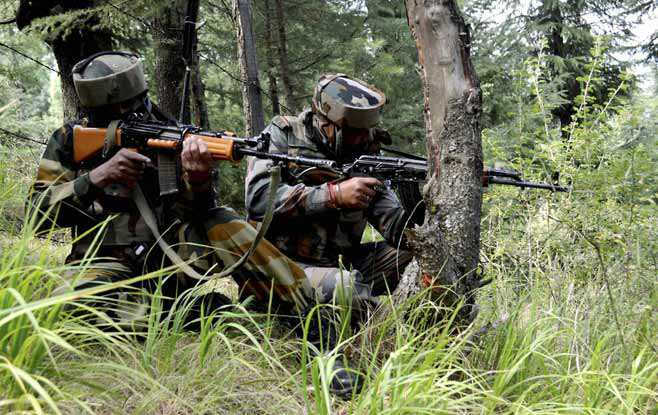 A Jaish-e-Mohammad terrorist, believed to be a key conspirator in the Pulwama terror attack, was shot dead in a 18-hour encounter in which the four soldiers, an officer, a civilian, and a policeman were killed. Kamran, one of the two terrorists killed in the encounter, was a Pakistani and a key aide of Jaish-e-Mohammad's Pakistan-based chief Masood Azhar.
The gunfight broke out at 12.45 am at populated Pinglena village when joint teams of forces were preparing for a search operation following an input about the presence of Jaish militants in the area. As the cordon was being laid, the Quick Action Team of the Army came under intense fire resulting in injuries to five soldiers, including the Major who was leading the team. "The officer and three other jawans later succumbed to their injuries," a defence official said. The four slain soldiers are Major Vibhuti Shankar Dhoundiyal, 33, of Dehradun, Uttarakhand; Havildar Sheo Ram, 36, of Jhunjhunu, Rajasthan; Sepoy Hari Singh, 26, of Rewari, Haryana and Sepoy Ajay Kumar, 27, of Meerut, Uttar Pradesh. Later, a policeman, Head Constable Abdul Rasheed, was also killed.
The killed civilian was identified as Mushtaq Ahmed. The forces engaged the militants who were shuttling from one house to another and killed two of them. When the security forces tried to close in on the third, he fired burst injuring three officers. He was cornered towards the evening and killed after the forces launched the final assault.
Army on Monday paid tribute to four of its personnel, who were killed during a fierce gunfight in Pinglena area of South Kashmir's Pulwama district. A army spokesperson said that the mortal remains of the slain were flown for the last rites to their native places, where they would be laid to rest with full military honours. "In this hour of grief, the Army stands in solidarity with the bereaved families of the martyrs and remains committed to their dignity and well-being," he said. The Northern Command of the army tweeted its tribute to the officer and soldiers, saying: "…salute the supreme sacrifice of our brave officer and soldiers and offer deepest condolences to the families."